Admin can easily create the custom endpoints by navigating to the endpoint settings. Click on the " Add endpoint" button to create the endpoint. You can also add the endpoint label, endpoint icon, endpoint class, restricting user role, content, and also allows you to attach media.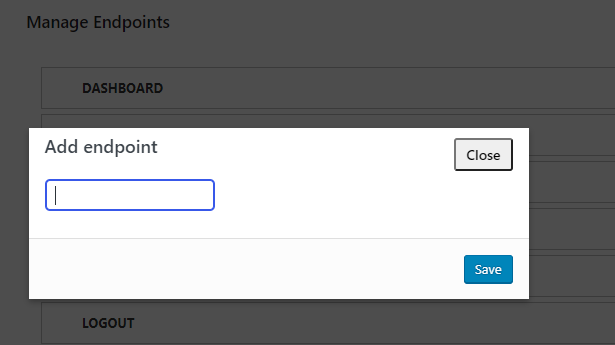 Settings available for this custom EndPoint:
EndPoint slug: Text appended to your page URLs to manage new content in account pages. It must be unique for every page.
Endpoint Label: Menu item for this endpoint in "My Account".
Endpoint Icon: Endpoint icon for the "My Account" menu option.
Endpoint Class: Add additional classes to the endpoint container.
User Roles: Select user roles from the dropdown and Restrict endpoint visibility to the selected user role(s).
Endpoint Content: Add Custom endpoint content. Leave it black to use the default content.